John's Upcoming Shows - 100 Solo Shows - 300 Films - "Top 25" - Biography


- JOHN'S NEW FILMS -



2018 - 2016 - 2014 - 2012 - 2011 - 2010 - 2008 - 2006
NOVEMBER 2018/2019
Pumpkin Parade
(John Porter, 2018/2019, super 8, 7 minutes, silent)
Close-up time-exposures of Halloween jack-o-lanterns
glowing with candles at night in a "Pumpkin Parade". An
annual event every November 1st, it was unique in the world
when it was initiated at Sorauren Avenue Park in Toronto in
2004, and since then it has spread locally and internationally.
PREMIERED AT
13th Annual the8fest - January 24-26, 2020
Polish Combatants Hall, 206 Beverley St., Toronto
Barred by Pleasure Dome
(John Porter, July 29, 2018, super 8, 3.5 minutes, silent)
Porter performs, protesting on a Toronto street against
Pleasure Dome Artists' Film Exhibition Group for barring
him from all their events for protesting against them.
Cinematographer, David Anderson.
Scanning 8
(John Porter, 2016, super 8, 3.5 minutes, silent, projector performance)
with David Anderson in Roundhouse Park, Bremner Blvd., Toronto.
premiered at the 52nd
Pesaro International Film Festival
July 2-9, Pesaro, Italy
INCLUDING
Super 8 Films and Performance by John Porter
in person from Toronto, Canada!
Friday, July 8, 6:30pm
Teatro Sperimentale, Piazza del Popolo, Pesaro, Italy
Spadina Circle (John Porter, 2014, super 8, 8 minutes, silent)
A continuously circling view from John's bicycle of the old University of Toronto
Art Department building at the centre of Spadina Crescent, a roundabout,
shot from dawn to dusk, and including Toronto's old and new models of
streetcars also circling the building in the foreground, John keeping up.
John's T-shirts (John Porter, 2014, super 8, 2 minutes, silent)
John models his large collection of film-themed t-shirts in rapid succession.
PREMIERED NOVEMBER 2014 IN TORONTO
CineCycle presents its Autumn 2014
Toronto Open Screening
Bring your films or videos to show!
or just come to watch!
35mm, 16mm, 8mm, super 8 film,
VHS, DVD, Blu-Ray, Quicktime.
Max 10 min. 1st come, 1st shown.
Premiere of 2 new films by John Porter!
Facebook
Sunday, November 23, 7:30pm, $pwyc (unclassified)
CineCycle, behind 129 Spadina Ave., Toronto
the8fest (John Porter, 2014, super 8, 7 minutes, silent)
Document of the 7th annual "the8fest" in Toronto
PREMIERED JULY 2014 IN TORONTO
at Pleasure Dome's annual Open Screening, July, 2014
Light Sleeper (John Porter, 2010/11, super 8, 3.5 minutes, silent)
John performs in his own film as a light sleeper under a blanket of Christmas lights.
It was shot continuously for 10 hours, using long time-exposures on each frame.
4 versions were shot simultaneously in 2011 - new versions of his 2010 film.
One of the new versions
PREMIERED JANUARY 19, 2012 IN TORONTO
at The Liaison of Independent Filmmakers of Toronto's (LIFT's) presentation of
"30 x 30" - 30th Anniversary Film Commissions
LIFT celebrates 30 years of filmmaking with 3 programs of
newly commissioned films & videos by 30 Canadian artists,
(including John Porter - January 19, 8pm)
made on, with, or in the spirit of, super 8 film.
10 films & videos each night, all world premieres!
Thursday-Saturday, January 19-21, 8pm, $8 each (unclassified)
Jackman Hall, Art Gallery of Ontario, 317 Dundas St. W., Toronto
All four versions of Light Sleeper (2011) are
new versions of Light Sleeper (2010) which
PREMIERED APRIL 7, 2010 IN TORONTO
in the 23rd Images Festival (April 1-10) presentation of
The 1st Toronto One Take Super 8 Event
Premiers of 29 new, local, super 8 films
made last month for this screening, edited in-camera,
using one film cartridge each, by John Porter, Lulu Wei,
Ross McLaren, Kate MacKay, Gary MacLeod, Brad Tinmouth,
Alison Broverman, Alison S.M. Kobayashi, Andrew J. Paterson,
Jennifer Chan, Rob Cruickshank, Jonathan Culp, Franci Duran,
Christine Lucy Latimer, Wade Vroom, Jason Wasiak, Alan Webb,
Karl Reinsalu, Jesse Shamata, John Sweetman, Andrea-Jo Wilson,
Joanne McConnell, Jamie McMillan, Renata Mohamed, Lucas Martin,
Francis Pratt, Edward Fawcett Sharpe, Tanja Grinberg, Maria Kubysh.
Wednesday, April 7, 11pm, $pwyc
Polish Combatants Hall, 206 Beverley St., Toronto
PREMIERED JANUARY 30, 2011 IN TORONTO
Toy Catalogue (2010, super 8, 40 minutes, sound on film)
shot on John's last rolls of Kodachrome.
Premiered in part at the 8 fest, Toronto,
with live narration and live foley sound!
Sunday, January 30, 4pm, all-ages!
2 FILMS PREMIERED JANUARY 28, 2010
the 8 fest 2010 Trailer
(John Porter, 2009/2010, super 8, 2 minutes, silent)
Shown before each screening at the 3rd annual
the 8 fest - Small-Guage Film Festival
Friday-Sunday, January 29-31, 2010
7 & 9pm, (Friday, also 11pm), $5.
Commissioned by the 8 fest.
Canadian Corps HQ, 201 Niagara St., Toronto
AND
Down on Me (John Porter, 1980/2010, super 8 installation)
included in
up & down & back & forth & round & round
the 8 fest installations, by Rob Cruickshank,
Vuk Dragojevic, Alexi Manis, John Porter,
Lina Rodriguez, and Alex Rogalski.
Thursday-Sunday, January 28-31, 12-6pm.
Opening: Wednesday, January 27, 7pm
Fountain, 1261 Dundas St. W. (east of Dovercourt), Toronto

Ice Cycling (2008, 3.5 minutes, silent)
A new Porter's Condensed Ritual
of annual bicycle races on an ice-skating rink,
shot in Dufferin Grove Park, Toronto, February 17th!
PREMIERED MARCH 12, 2008
The 6th Super 8 Circus
New super 8 films projected with live music by GUH.
John Porter, Jo Dickins, Sabrina Moella, Anna Chen, Yousof Malik,
Joel Barnes, Judy Barros, Gabe Knox, Rick Palidwor, Alex Rogalski,
Marina Boldireff, Felix Kalmenson, Koom Kankesan, Timothy Rothwell.
Wednesday, March 12, 7pm, $8/5 (unclassified)
Innis Town Hall, 2 Sussex Ave., Toronto
presented by The 7th U. of T. Film & Video Festival (March 12-15)
Canadian Filmmakers Distribution Centre, 1967
(2008, 2 minutes, silent, live narration)
A history of the CFMDC's first location, at Yonge and Bloor Streets, Toronto,
in a building about to be demolished for a new condo tower.
Part of John's continuing Remember Rings series.
Bowling in Manitouwadge (2007, 7 minutes, silent, live narration)
Beginning with an addition to John's continuing Remember Rings series,
a tour of the centre of a small, isolated mining town in northern Ontario,
then, in an addition to John's Condensed Rituals, time-lapse series,
John and his road-trip friends go bowling in the 4-lane bowling alley.
BOTH FILMS PREMIERED FEBRUARY 23, 2008
the 8 fest - Small-Guage Film Festival
February 22 & 23, 2008, Toronto
An article about the festival in Canada's national daily newspaper
The Globe & Mail, February 22, included a paragraph about
John Porter's new film Bowling in Manitouwadge.

Holiday Train ( John Porter, 2006, 3.5 minutes, silent)
A Condensed Ritual (time-lapse / pixilation)
using time-exposures of a cross-country train,
decorated on the outside with Christmas lights,
arriving at night and stopping briefly for a set of songs
from a band performing from the open doors of the freight car.

Beauty: Film, Death. - burning film live, in the projector!
(John Porter, 2006, super 8, variable length, performance)
Premiere - Wednesday, November 29, 2006
at the Supermarket, 268 Augusta Ave., Toronto.
in the series Film is Dead... Long Live Film!, November 22 - December 20.
Premieres of commissioned films, videos, performances and installations
presented by the Liaison of Independent Filmmakers of Toronto LIFT,
in celebration of its 25th ("Silver") anniversary.
Bliss is Over! - a history of Splice This!
(John Porter, 2006, super 8, 5.5 minutes, live narration)
A history of Toronto's annual Splice This! Super 8 Film Festival (1998-2006).
Commissioned by the festival for its theme programme - Over.
Premiered June 23 & 24, 2006
in the group theme programme Over (total attendance: 250)
at the 9th (& final) Splice This! Toronto Super 8 Festival
at Xpace, 303 Augusta Ave., Kensington Market, Toronto
Christmas Toy Lights Me
(John Porter, 2006, super 8, silent, 3 minutes)
A time-exposure self-portrait, using only the light from a miniature Christmas village toy display in the foreground. It's beautiful and funny, one of my favourites in recent years.
I shot it at home in 12 hours, over-night, just 3 days before its premiere screening, for which it was commissioned. I then bicycled it down to Exclusive Film Lab's night drop box before they opened (I love this ritual), so as to get it processed in time.
Also, I shot two rolls (Ektachrome 125) simultaneously, in two cameras side-by-side on tripods. Each roll is a subtly different "version" of the film. Two originals are cheaper and easier to make, and better quality, than one original and one print! I've done this before.
They can also be shown together as double-projection, maybe even 3D.
Premiered Friday, February 17, 2006 at the 4th annual Super 8 Circus
Super 8 films made for the screening by Brian Cram, Mariah Mills,
Chris Jodoin, Leehe Lev, Joel Barnes, Cris Rossel, David Eng, Jo Dickins,
Andrea Whyte, Andrei Tanasescu, Andrew MacDougall, Maggie McDonald,
John Greyson, Koom Kankesan, Stephanie Kern, Tuca Labihari, Justin Lovell,
Rick Palidwor, Andrew Chiang, Jennifer Newcombe, Shireen Seno, John Porter,
with live musical accompaniment by jazz band GUH.
Innis Town Hall, 2 Sussex Ave., Toronto
All commissioned by the 5th University of Toronto Film & Video Festival (Feb.14-18).
Thanks to the festival for providing all film stock, to Exclusive Film Lab for processing all films at cost price, and to Rick Palidwor for organizing this great programme every year.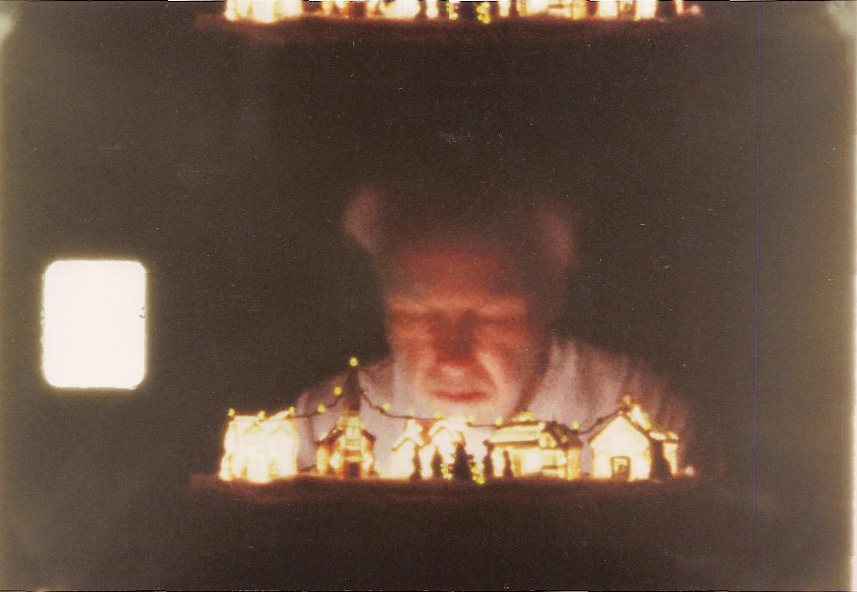 John's Upcoming Shows - Recent Shows - 100 Solo Shows - 300 Films - "Top 25" - Biography